Office Address

Non Resident
Mailing Address

John F. Kennedy School of Government
Mailbox NR
79 JFK Street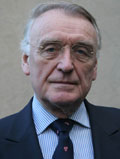 Profile
Karl Kaiser is Adjunct Professor of Public Policy at the Kennedy School and Senior Associate of the Program on Transatlantic Relations of the Weatherhead Center for International Affairs. He was educated at the Universities of Cologne, Grenoble and Oxford and taught at the Universities of Bonn, Johns Hopkins (Bologna), Saarbruecken, Cologne, the Hebrew University, and the Departments of Government and Social Studies of Harvard. He was a Director of the German Council on Foreign Relations, Bonn/Berlin and an advisor to Chancellors Brandt and Schmidt. He was a member of the German Council of Environmental Advisors. He serves on the Board of Asia-Pacific Review, Internationale Politik, Russia in Global Affairs, the Advisory Board of the American-Jewish Committee, Berlin, and the Board of the Ceneter for International Security and Governamce, Bonn. He is a recipient of the Atlantic Award of NATO. Professor Kaiser is the author or editor of several hundred articles and about fifty books in the fields of world affairs, German, French, British and US foreign policy, transatlantic and East-West relations, nuclear proliferation, strategic theory, and international environmental policy. He holds a Ph.D. from Cologne University and an Honorary Doctorate of the Russian Academy of Sciences.
Media Expertise
Karl Kaiser welcomes media inquiries on the following subjects:
Additional experts may be found by clicking on each subject listed. You may contact faculty directly or if you need assistance contact the Communications Office at 617-495-1115.